This should surprise no one who has followed this segment of the market. The popularity of oil and gas signs – petroliana, as we all commonly think of it – has been soaring for years. What Fenton is talking about, though, is not those wonderful early petroliana pieces. What he's referring to is the rising tide of everything else in the world of porcelain signs.
Is it safe to say that porcelain signs, in general, are a market that has reached maturity? We'd have to say yes. As would Fenton, from his perch at Manifest.
"As far as areas in the market that still have room for growth, there's really not a whole lot left that hasn't been pretty well scouted out," he said. "Perhaps there's a bit of room in certain food store signs or food brands. We all know how popular oil and gas [are], but beer signs are also popular right now, as are traditional country store signs, good brand names like Coca-Cola and Lifesavers, too. People always take notice of a good brand."
Signs Support the Spectrum of Products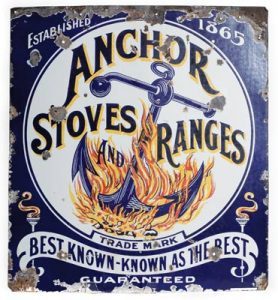 Digging through the photo archives of Manifest bears this out. The diversity of product advertised on these signs is as varied as the people and places to which they were marketed. At this point, any kind of genre you can think of is collected: Santa Claus, barber shops, cleaning products, clothing brands, drugstores, dairies, candy, and so on. Think of a product and there is a niche.
If the momentum behind porcelain signs has been building for the last decade, the last three years have seen that pace quicken even more. The best examples of non-petroliana signs can easily bring strong four- and low five-figure prices – signs made by makers like Walker and Ingram-Richardson, in particular.
"Finding a piece with an Ing-Rich mark on it is a very good thing," said Fenton. The middle market is
Old Joe's Steam Beer sign
Single-sided curved porcelain sign for Old Joe's Steam Beer with corner mounting bracket and image of eagle, small chips at upper left and upper right, 18" diameter. $6,500.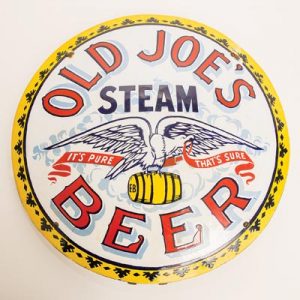 routinely in the $500 to $1,000 range.
It is possible to get interesting signs at just a few hundred dollars, but at that level, these days, you pay for what you get or, as it goes in so many of the strongest markets, condition is absolutely everything.
"That's always going to be the biggest thing," Fenton said. "Are the graphics good? Period. Is it something more than just a logo? Do the colors stand out? Do they really pop? Even relatively common signs with fairly plain graphics in sharp condition will bring a significant premium because of the condition."
Get Into a Sign State of Mind
Porcelain signs have an added brilliance in their appeal to neophyte and experienced collectors alike. To the latter, signs double as art, as statements of character and value. Someone with no experience whatsoever in the market can walk into an auction, a shop, or a show and fall head over heels in love even if they've never considered signs before. There is a feeling inherent in the form that appeals to our simplest, humblest, and most American of sensibilities: Nostalgia for our shared past. What can possibly say it better?
"Most of these pieces were mass-produced and not made to survive as long as they have," said Fenton. "It's not a total fine art mentality, it's almost more of an archeological mentality of preservation that we find with collectors. They just have a passion for it and would rather put their money in these signs than anything else."
Getting into the market is not hard, just buy the best you can afford and ask questions of experts like Fenton (www.manifestauctions.com). The hard part is stopping at just one sign. Ours is a business of acquisition, and few groups of collectors enjoy the process more than those who love signs.